Description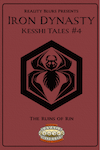 The Ruins of Rin is the fourth installment in our popular Kesshi Tales series!
Our heroes escort a merchant who has business to do in the treacherous lands of Tahata Gaki, but stumble into an adventure far bigger than they anticipated. What rumbling machines and dark secrets shall they uncover in the ancient ruins? Will they live to tell the tale or shall the ravenous spirits of the dead send them to their doom?
For play in the lands of the Iron Dynasty!
This is a PDF product.