Description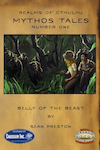 Professor Locke sends out a call for adventurers to join her expedition abroad. She claims to seek the Lost Tablet of Creation, but does she keep secrets of her own?
The quest takes a dark turn as the heroes leave the sanctity of civilization behind and brave the horrors awaiting them in the deepest depths of Africa, the belly of the beast. What happens when men journey into savage lands? Will ancient things awaken? Are some things better left unknown? Shall our intrepid heroes survive the dangers awaiting them and escape with body and soul intact?
There is only one way to truly find out…
Keepers take note! This rollicking adventure is set in the 1890's and is slanted towards the Heroic Horror play style, offering plenty of action steeped in Lovecraftian Horror. Fear not, you can easily adjust it to suit the sensibilities of you and your group.
This is the first official Realms of Cthulhu adventure and requires Realms of Cthulhu and Savage Worlds for play.
Realms of Cthulhu is a core campaign setting produced under license with Chaosium and Pinnacle Entertainment Group.
Format: PDF