Description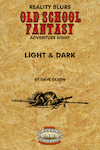 Corruption is a powerful force, one that few understand and even less learn to control. In Old School Fantasy #8, a terrible plague is sweeping throughout the land, infecting hundreds of people, and its source seems to come from the walled city of Hopewell. Brave heroes become entangled in dire affairs as terrible events unfold around them. Only by following the corruption to its hideous source and confronting the terrible powers that lurk behind it can the heroes hope to triumph. But is it too late for them already?
Light & Dark is the next installment in Reality Blurs' Old School Fantasy line of adventure modules. Hearken back to the days of legend and lore, when your spells, swords, and smarts alone kept the forces of evil at bay.
This is a PDF product.