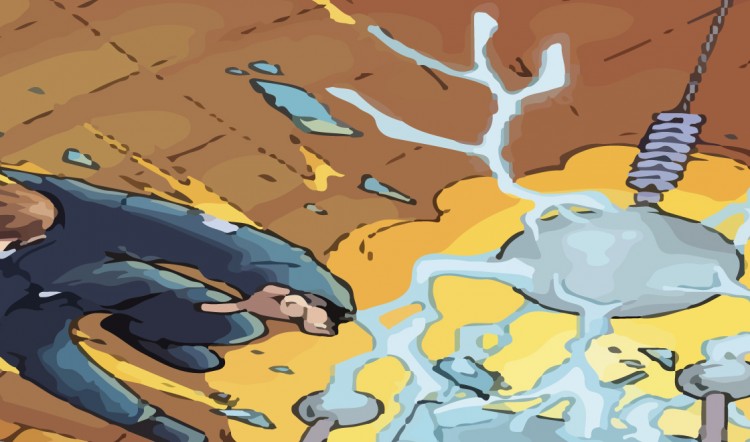 Dream Team or Doom Patrol?
Hello All.
I've been threatening to announce this for awhile, but wanted to get all the pieces in place.
Without further ado, I'd like to announce the folks working on the Agents of Oblivion Campaign Setting Book.
Erica Balsley: Erica brings her True20 expertise, creative wit, and all around tweak-fu to the project. Her past work includes editing the True20 Bestiary and working for such fine companies as Goodman Games, Necromancer Games, and Mongoose Publishing. She most recently did the conversion work for Starfall Jungle for Reality Blurs and it delights me to no end to have her aboard.
Clint Black: Best known as the author of Necessary Evil and a Savage Worlds guru, Clint moderates the Pinnacle forums and keeps himself busy working on many secret projects in various capacities. He's worked with Pinnacle, 12 to Midnight, and Reality Blurs. What will he be doing for Agents of Oblivion? You'll have to wait and see.
Matthew Kaiser: Author of the True20 Bestiary for Green Ronin, Matthew is going to be the lead creature designer for Agents of Oblivion. He's already focusing his proven expertise with True20 and his dark brilliance to bring the forces of the night into the light. I think you'll be impressed with what we've got in the works in this department.
John Rogers: The Core. Transformers. The Blue Beetle. Eureka. Agents of Oblivion? Heck, we're happy to be in such good company. John Rogers is bringing his mad Hollywood screenwriting, comic book scripting, and all around writing experience to the task of working on this rpg. Does something sound wrong with this picture? John has a penchant for mechanics and is already developing some subsystems for review. One wonders where he has the time, but I appreciate him carving out a bit for Reality Blurs.
Ed Wetterman: A teacher, a devoted father, and a creator of dark nightmarish horror that makes grown men wet themselves. Ed is one of the founders of 12 to Midnight and is best known for creating such genre-bending RPG adventures as Innana's Kiss and, one of my personal favorites, Last Rites. We've been working closely over the summer developing a solid, cosmological underpinning for the setting. I'm glad to see he's able to make time to contribute further to this work. AoO wouldn't be quite the same without him.
Sean Preston: Hey, that's me! I'm the founder of Reality Blurs and designed AoO. I know the systems we're developing for pretty well at this point and have even created a rule or two in my time. I'll be carving order from the chaos, managing the maelstrom, and expanding the setting and its disparate parts into a cohesive whole. Why do I feel Tool should be playing in the background about now? Oh well.
This is the creative force currently in place. Pray they can survive the madness. Me? I'm praying for rain.
Regards,
Sean Preston
President, Reality Blurs
P.S. A special AoO website is in the works. Watch this space for details. :)
P.P.S. Want to have your thoughts about AoO read by more than me? Post about it on the True20 Forums. Don't want to start your own thread? Join one already in progress.