Description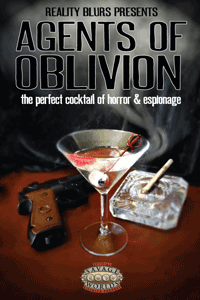 Ready for horror-fueled espionage action? Agents of Oblivion wants you!
Agents of Oblivion is the highly anticipated Savage Worlds setting book we like to call €œThe Perfect Cocktail of Horror and Espionage€.
The pages within are graced with everything you need to play the style of spy game you want to play, from €œThe Company Line€ where every nightmare and conspiracy you can imagine is real and you can wield the powers you need to drive back the darkness to Spy versus Spy€ where you can take things on in a gritty brutal fashion.
John Rogers, creator and executive producer, says it nicely.
"You have in your hands a rules set that lets you play anything from €œSpellslinging Spy vs. Alien Brain Eater€ to €œHarry Palmer vs. That Unpleasant Fellow from Bulgaria. They haven'€™t glossed over any of the little nuts and bolts you need to play a realistic spy game, if that'€™s your desire – they've just streamlined it to be Fast, Furious, and Fun. That I can use one setting to play both those extremes is impressive as hell."€
Let's break things down a bit more:
Agent generation is designed with flexibility in mind and expands the Savage Worlds base rules while remaining true to them. Within are options to even modify your agent's abilities between missions. Add to that resources, and you have a setting that truly shines—spytech, special training, SUDs (single use devices), and a multitude of ways to trick out your loadouts and options to grab.
If you're the Director, there's plenty for you within these pages as well. Advice on how to integrate spy and horror themes into your games along with details on modeling your campaign into one of the seven campaign frameworks and a robust spy sampler where we show you how by example of how to create a campaign in each of the styles. Combine this with mission generators, creature generators, and more and you can leap into the modern world of high stakes espionage and horror with complete confidence.
This is a PDF product.