Description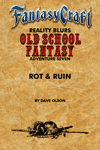 In Old School Fantasy #7 a terrible corruption slowly spreads across the land, choking the life from the farmlands that provide the food necessary to make life possible. The farmers are beginning to get desperate: they know what is happening is unnatural, but are powerless to stop it or preserve the few crops that still grow. They need heroes to root out the problem and halt the spread of the corruption across their land… and fate has delivered them such a group.
Rot & Ruin is the next installment in Reality Blurs' Old School Fantasy line of adventure modules. Hearken back to the days of legend and lore, when your spells, swords, and smarts alone kept the forces of evil at bay.
This is a PDF product.