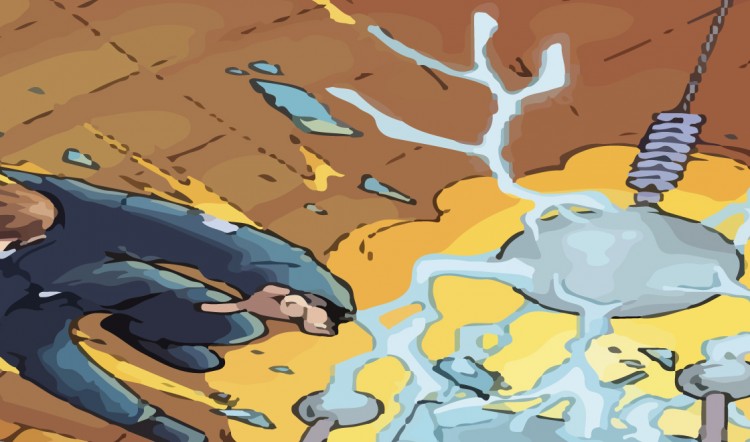 Missive #27: Action Alert Adventure Starter
Howdy Directors and Agents.  Here is this week's missive.  It's meant to be an adventure starter.  Be creative and work out the details and NPCs.  Then share them on the forums.  I'd really like to see what ya'll can do with this.
Enjoy.
______________________________________________________________
…Action Alert…Action Alert…Action Alert…Action Alert…Action Alert
CONFIDENTIAL  CONFIDENTIAL  CONFIDENTIAL   CONFIDENTIAL
AGENCY EYES ONLY AGENCY EYES ONLY AGENCY EYES ONLY
GENERAL INFORMATION FOR IMMEDIATE RELEASE
TARGET:  SIR HENRY TRAVERS: PANDORAN AGENT
WANTED FOR IMMEDIATE CAPTURE
RECOVER SATELLITE ACCESS KEYS
LOCATION: WESTERN EUROPE
Travers was last known to be in Paris, France where he killed Oblivion Regional Director Jean Alan Kyani and obtained access keys to Oblivion satellite relays and now controls three of our surveillance satellites. He is believed to be traveling with a female.  She is six foot tall, blond, athletic, name unknown.  They were headed south out of Paris driving a blue 1991 Italian Ferrari 360 Spider sports car, license unknown.
ECONOMIC THREAT LEVEL: 1
Access to several Oblivion surveillance satellites are compromised and have caused the loss of said satellites.  It is doubtful Pandora will sell information, but that they have developed a plan to use the satellites in one of their own operations.
POLITICAL THREAT LEVEL:  1
It is unknown how Pandora or agent Travers plans on using the satellites.  HUMInt investigating.
MILITARY THREAT LEVEL:  1
Unknown
PARANORMAL THREAT LEVEL: 1
Travers can channel and has access to arcane powers, but no other external paranormal threat is known at this time.
AGENCY THREAT LEVEL: 2
The surveillance satellites cover regional areas of southern Europe, Mediterranean, and North Africa.  Intel suggests a major move by Pandora against Oblivion assets in the region.  Loss of key satellites leaves agency blind without SIGInt in these areas.
Archiving Division Details:
The access keys are encypted data disks that includes all the necessary information to gain control of S. European SCAN satellites.  Since contact has been lost, we must assume that Pandora or Travers has decrypted the data and gained control of the satellites as we are temporarily locked out of all SIGInt from them.
Action Alerts
Locate and capture Sir Travers.
Recover (if possible) the access keys or the new codes entered by Pandora or Sir Travers.
Discover what the end purpose of the theft and assassination are.
Follow up as necessary.
_________________________________________________________________________
There ya go.  Have fun.  Till next week, keep it down, check your six, and never bring a knife to a gunfight.
Ed Wetterman