Description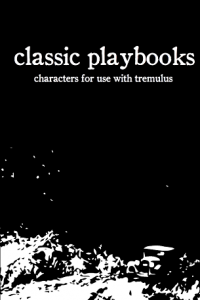 This set provides the traditional archetypes most commonly found in Lovecraftian literature, and is perfect for people wanting to join an online tremulus game without spending a dime. These replicate the same information found in the core book, but are set up in playbook fashion as printer-friendly character sheets containing everything you need to assume the requisite role right away.
The Alienist: You are well educated and study to treat the mind.
The Antiquarian: You study history through the objects and relics from past days.
The Author: You dream and write and explore the corners of your mind.
The Detective: You are a private eye, well-versed in the fine art of unraveling mysteries.
The Devout: You are committed to spreading hope and restoring people's faith in humanity.
The Dilettante: You are rich, usually idle, and often indulge in pastimes the poor only dream of.
The Doctor: You are a trained, rationally-minded physician, capable of treating the illnesses and injuries of the human body.
The Heir: You are an everyman who has recently come into a windfall.
The Journalist: You are an investigative reporter with a keen eye and nose out for the next big story.
The Professor: You are a teacher, a speaker, a walking body of knowledge.
The Salesman: You are a peddler, a huckster, a smooth-talking trader.
The rules necessary to treat the mind (Alienist) and body (Doctor) are included as well.
This is a PDF product and is automatically added to any tremulus book order (print, pdf, or both).