Description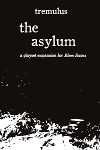 Ebon Eaves is the creepy little town for you to call your own, a place where even the nooks and crannies have nooks and crannies. The Asylum is the place where investigators often end up (if not devoured in the process of their inquiries). It offers up a fine addition to Ebon Eaves, making the madness which oft lurks just beneath the surface quite obvious and evident. Correspondingly, you'll find three accompanying complementary playbooks: The Nurse, The Orderly, and The Patient, each offering a unique play experience all its own.
The Nurse: You have a nurturing spirit and care deeply for the welfare of others.
The Orderly: You keep patients in line. And know how to keep your own patience, if you must.
The Patient: Stricken by physical or emotional distress, you still muster the strength to find out the truth hidden behind the veil of reality's lies.
This is a PDF product.