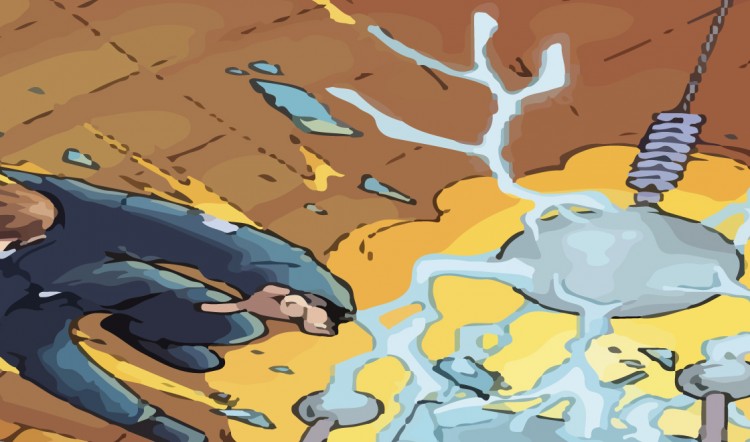 Status Quo
In terms of news, last week fell short of the prior week's announcement, news, and revelations, but a lot was accomplished that is important, but not newsworthy. Kinda like brushing your teeth. You're supposed to do that. Sure, it's important, but not something you'd expect someone to read on a website.
Still, I appreciate each and every one of you that visits this site regularly and can see the growth (hopefully) of my writing ability. Here's how we brushed our teeth:
Editing continued on Orwell Industries.
Guns got figured out…okay, this doesn't count so much as brushing as flossing. I went round and round with a buddy of mine deliberating the whole conversion process of weapons for T20 AoO. I mean, how many guns need to be included…we could go the Ultramodern weapons way or the Spycraft way on one extreme to the less extensive lists in CoC d20 or something in between, like in Modern d20. Well, we settled on something in between at present in terms of quantity, but with quality, we wanted to express a world-spanning view, and I think we're definitely on that. Naturally, this will give way to some more relevant feats and other necessities to refine AoO and our need to make the mechanics match the setting. Just lightly tweaked. Oh, to that end, we figured out a nifty conversion algorithm that makes everyone here very, very happy.
Archetypes for Iron Dynasty are sketched out and an innovative approach is being taken to the setting. Although you may not have seen much of our stuff yet, you should realize that we shun the traditional paths with a lot of things and Iron Dynasty is being treated no differently. We're developing a setting that will have all the surliness of a saki-saturated samurai. Check that section of the website for more details, will ya?
Hmmm…what else? RunePunk…oh yeah. I integrated Clint's observations into the races. Good stuff. You see, Clint really gets RunePunk and is extending some of its scope and further enriching the embedded flexibility of it. So far. I'm happy. We'll see. ;)
Until next time. Get your game on!
Regards,
Sean