Description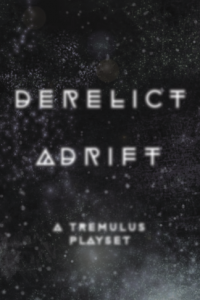 Jump into the future. Leave the past behind. Leave the planets behind, as you plunge into the unknown reaches of space in this futuristic playset for tremulus.
This playset provides a completely new tableau for tremulus and introduces a few new mechanical twists. You'll be able to spec out your ship, kit out your character, answer a handful of questions, and plunge into futuristic horror right away.
Naturally, you'll need a crew. And, we've got one ready for you. Our heroes crew their own ship. This is a tale of what they encounter in the inky blackness of space…
The Crew of the Bronte
Five exciting playbooks await you to breathe life into them.
Naturally, you cannot have one without the other, so this package includes both the Derelict Adrift playset and Crew of the Bronte.
tremulus is required for play.
Pages: 40+  Format: PDF